The Build
The build started in mid June 2007. This section shows details of construction process and costs so is intended for anyone doing a similar project. There are more general photos of the overall progress in the photos section.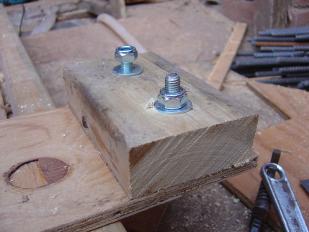 Utilities
The two pictures here show how the proposed sewer fits into the plans and the first four excavations to highlight the difficulty in laying the sewer in a way that fits with
Electricity
To open up the market, electricty can be bought off the national grid from a number of suppliers but the connection is carried out by one company in each area of the UK. In Bristol this is done by Wales and West Utilities through the new connections team. Confusingly the meter is installed by another company who you call separately. As a consumer you are supposed to have a choice of suppliers. I heard that this can cause confusion as there is actually only one company in each area that connects the meter up. It's EDF in Bristol so to save dealing with another company I signed up with them. You or the new connections team need to co-ordinate with the grid connection team so the meter turns up after the connection to the grid.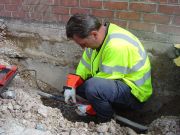 Once you have a meter you need to get a qualified electrician to connect it to your side. Or if you know what you are doing, install an 80 amp isolator, consumer unit, socket and be ready with some spare meter tails before the meter is connected. Tea and biscuits can sometimes be used to persuade the meter installer to connect you up. This isn't allowed and didn't happen.
There are a few photos illustrating this.
Sewer
The water board is responsible for sewage treatment and for the main sewers. The sewer that connects a private residence to the main sewer must be installed privately as the water board are not responsible for installing or maintaining these. The water board do inspect connections undertaken by private companies. There are standards and qualifications that the installer must have. As a sewer connection isn't undertaken by a single company there are quite a few fees to pay (all costs are approx.)-
Road opening Licence - From the Council £307
Sewer Connection - Water Board £281
Infrastructure Charge - Water Board £276
Installation - Private Civil enginnering company - £19,000!
There are loads of photos and notes illustrating the installation of my sewer.
Water
Water
- Not yet installed, section not complete
StabilisingRearWall
Photos of the rear wall
for use when considering how to proceed with the next stage of the build.
Cantilever Props
Photos of the props
designed to keep the roof in place when the rear wall is removed.